News
08.11.2017
»The Nature of German Imperialism« - Nominated for the ASA Ogot Book Prize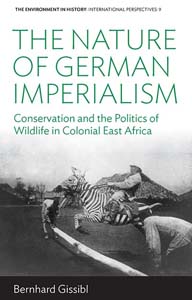 The IEG is delighted to announce that »The Nature of German Imperialism. Conservation and the Politics of Wildlife in colonial East Africa« by Dr Bernhard Gißibl has been named a finalist for the African Studies Association's 2017 Bethwell. A. Ogot Book Prize. Published in late 2016, the book gives the first full account of Tanzanian wildlife conservation up until World War I, focusing upon elephant hunting and the ivory trade as vital factors in a shift from exploitation to preservation that increasingly excluded indigenous Africans.
This annual book award, named in honour of leading Kenyan historian Prof. Bethwell A. Ogot, is presented to the author of the the best scholarly work in East African studies from the previous calendar year. The winner of the Ogot Award is due to be announced at the
ASA Annual Meeting
on November 18, 2017 in Chicago.
Bernhard Gissibl is a member of the academic staff in the Section for Universal History. His current research project analyses the role and development of the foreign correspondents network of West Germany's public service broadcasting organizations during the Cold War.