News
14.05.2018
Officially Launched: »Research Infrastructure on Religious Studies« (ReIReS)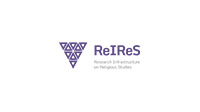 The Horizon 2020 funded project "Research Infrastructure on Religious Studies" (ReIReS) held its kick-off meeting in Bologna, March 7-8, 2018. Participants from 12 European institutions from 7 countries met to discuss the project's organisation, to learn how they can best collaborate using each other's competences, as well as to gain insight into the further development of the project.
ReIReS is a starting community whose aim is to create a unique and groundbreaking research infrastructure on religious studies within the European Research Area.
In the vision of the 12 institutions, religion plays a key role in nowadays European society. Shared knowledge and academic reflection can stimulate a peaceful coexistence and avoid religious illiteracy. Therefore, proper research instruments are of high importance. ReIReS will offer transnational and virtual access to the most significant tools and sources in the field of religious studies. This offer is unique, because it combines data of major European research institutions, thus offering knowledge that is of high importance not only for scholars, but also for decisionmakers. Young scholars will be trained in how to use these tools for their research. Besides, the project will work on impact on the European society as a whole, because it also aims at advancing knowledge and innovation in the understanding of inter-religious society.