News
04.07.2018
Article by Mrinalini Sebastian about Tübingen and Mangalore published in "On site, in time"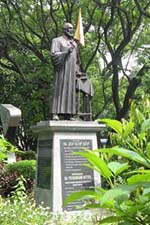 In her article on Tübingen and Mangalore, Mrinalini Sebastian examines the connection between the German and the Indian city based on the Basel Mission, whose headquarters were in the coastal town of Mangalore.
In the 19th century, the Eberhard Karls University of Tübingen was an important institution for collecting manuscripts in Sanskrit and other Oriental languages. The theological college attached to the university, known as the Tübinger Stift, was an important training centre for future missionaries of the Basel Mission.
The Basel Mission itself, which was founded in 1815, was a Protestant ecumenical missionary organization whose prominent missionaries had connections to Tübingen and had an intellectual interest in the languages and cultures of India. These missionaries, associated with Tübingen, were primarily committed to preaching the Gospel and converting the local people to the Christian faith. Sebastian describes in her essay the operation of the missionaries, for example by Herrmann Mögling (1811–1881) and Ferdinand Kittel (1832–1903) for the documentation and preservation Kannada, a Dravidian South Indian language or Hermann Gundert (1814–1893) for Malayalam, another South Indian language. In particular, Sebastian emphasizes the intellectual curiosity of the missionaries in the language of the "Other," which enabled the University of Tübingen to access South Indian languages in a very special way.
Mrinalini Sebastian was a postdoctoral fellow from 2013 to 2014 in the project "Images of Europe Protestant Missionaries" by Judith Becker at the Leibniz Institute for European History.
Picture: Wikimedia Commons, Creative Commons Attribution-Share Alike 2.0 Generic License.