News
04.01.2019
Senior Research Fellowship Programme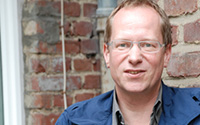 We are very pleased to welcome Till Van Rahden once again as a Senior Research Fellow at the IEG.
During his time in Mainz he will work on his project "Forms, Style and Manners: Democracy as a Way of Life in Postwar Europe."
Great to have you here again!
Till van Rahden teaches modern European history at the Université de Montréal where he held the Canada Research Chair in German and European Studies from 2006 to 2016. His research focuses on European history since the Enlightenment. He is particularly interested in the tension between the elusive promise of democratic equality and the recurrent presence of moral conflicts.