News
16.01.2019
Fabian Klose has accepted an appointment as professor at the University of Cologne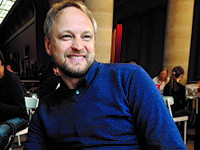 Fabian Klose has accepted an appointment as professor at the University of Cologne. He will take the office of professor for "International history and history of peace and conflict studies" on 1st April 2019. At the same time, he received an appointment for a professorship for "Transnational history of the 19th and 20th century" at Europa-Universität Flensburg, which he declined.
From 2012 to 2018 Fabian Klose was member of the academic staff at the Leibniz Institute of European History, Mainz. As affiliated scholar, he will continue his close partnership with the IEG. Currently, Klose represents the chair of Modern and Contemporary History at the LMU Munich.
This spring 2019, his habilitation paper "In the Cause of Humanity. A History of Humanitarian Intervention in the long 19th Century" will be published in the series "Veröffentlichungen des Instituts für Europäische Geschichte" (Vandenhoeck & Ruprecht) which was awarded in 2018 with the "Carl-Erdmann Preis" by the german association of historians (VHD)
We congratulate Fabian Klose for the appointment and wish him all the best for his new position!