News
22.01.2020
Stanislau Paulau honoured by the Dr. Walther Liebehenz Foundation for his dissertation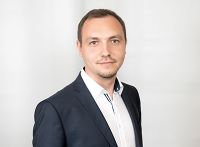 Stanislau Paulau was awarded the annual prize of the Dr. Walther Liebehenz Foundation for his doctoral thesis »Das andere Christentum. Zur transkonfessionellen Verflechtungsgeschichte von äthiopischer Orthodoxie und europäischem Protestantismus«.
Paulau, who was born in Belarus, shares the prize with Lubomir Sůva, a doctoral candidate from the Czech Republic, who was honoured for his dissertation »Die Märchen von Božena Nĕmcová und den Brüdern Grimm im Vergleich«.
The Dr. Walther Liebehenz Foundation supports young researchers in the field of cultural studies and promotes the use of the German language in academic papers.
Stanislau Paulau completed his PhD at Georg August University Göttingen in 2019. Since March, 2019, he is a member of the academic staff at the Leibniz Institute of European History.