News
18.02.2020
Anne Friedrichs to be associated researcher at the Centre Marc Bloch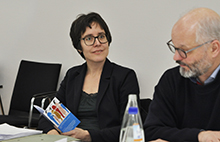 Anne Friedrichs, member of the academic staff at the Leibniz Institute of European History, has been offered the position of an associated researcher at the Centre Marc Bloch in Berlin in 2020 and 2021.
The Centre Marc Bloch is a Franco-German research centre for the humanities and social sciences and has the status of a French research institute abroad. As part of the collaboration, Anne Friedrichs will discuss her habilitation project in the research area »Mobilités, Migrations, Recomposition des espaces« in Berlin on May 5th, 2020.
In addition, Anne Friedrichs and Leyla Dakhli are co-organisers of the workshop »Circulating concepts of diversity - and mobilizing the nation? Perspectives on new global history writing, the transfer of bestsellers, and the academic landscape in Europe« that will take place on September 25th, 2020.