News
18.03.2020
New article on EGO: »Der deutsch-dänische Grenzraum« by Oliver Auge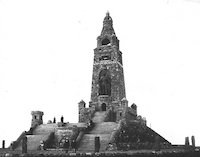 A new article was published on European History Online (EGO) in cooperation with the IEG: »Der deutsch-dänische Grenzraum« by Oliver Auge.
Details in German following:
Der deutsch-dänische Grenzraum gilt heute als europaweites Vorbild im Umgang mit nationalen Minderheiten und Musterbeispiel eines dauerhaften Grenzfriedens. Doch das war nicht immer so. Erst die Bonn-Kopenhagener Erklärungen von 1955 schufen die dafür notwendigen nachhaltigen Voraussetzungen. Davor war der Grenzraum seit 1864 von schweren Spannungen und der gegenseitigen Ausgrenzung der nationalen Minderheiten geprägt.
Die ersten Spuren einer Grenzziehung zwischen einem dänischen und einem fränkischen, später deutschen Machtbereich finden sich im Jahr 811. Dieser Grenzverlauf war zunächst aber sicher weitaus weniger linear und statisch, als es die seinerzeitige Orientierung an der Eider suggeriert und die nachfolgende Grenzrezeption glauben machen wollte. Vielmehr scheint die Vorstellung von einem breit angelegten Grenzsaum (engl. boundary oder border region) angemessen, der den deltaartigen Mündungsbereich der Eider mit seinen ausgedehnten, sumpfartigen Uferniederungen widerspiegelte.
Oliver Auge is a professor for regional history at the Historical Seminar of the Christian Albrecht University in Kiel.
Image: Bismarckturm auf dem Knivsberg. Archive of the Knivsberggesellschaft, 1905. Public Domain.
Wikimedia Commons
.