News
23.04.2020
IEG director Irene Dingel gives an interview in the podcast »Tonspur Wissen«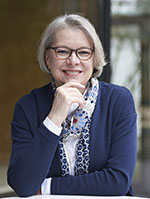 IEG-director Irene Dingel makes an appearance in the 25th episode of »Tonspur Wissen«, a podcast by the Leibniz-Gemeinschaft and t-online.de, where she talks about faith and religion in the times of the Corona virus.
Details in German following:
Corona-Angst kann Menschen in eine existenzielle Krise versetzen, doch gläubig werden sie Irene Dingel zufolge deswegen nicht unbedingt.
Trotzdem könne Religion Menschen helfen. Wie genau Glaube und Religion in Zeiten des Corona-Virus wirken, wie sich der Umgang mit Religion über die Jahrhunderte verändert hat und was Klima-Aktivistin Greta Thunberg damit zu tun hat, erklärt Irene Dingel im Gespräch mit Moderatorin Ursula Weidenfeld.
You can access the complete interview (download or stream) as well as the transcript via the link »Tonspur Wissen«.