News
05.05.2020
Christian V. Witt offered fellowship at University of Oxford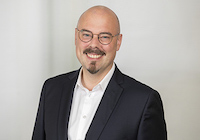 Christian V. Witt, Heisenberg fellow at the IEG and lecturer in Church History at the Johannes Gutenberg University in Mainz, has been offered the Plumer Senior Research Fellowship at St. Anne's College in Oxford.
Christian V. Witt is going to spend the second term of the upcoming academic year (Hilary term, January 3rd – March 30th, 2021) in Oxford, where he will continue his research. The renowned St. Anne's College is one of the largest in Oxford, with students and fellows from a wide range of academic disciplines.
More information on Christian V. Witt and St. Anne's college can be found on the linked websites.