News
07.05.2020
IEG alumni Andrea Hofmann and Tobias Weißmann to be members of the Young Academy | Mainz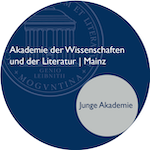 Andrea Hofmann and Tobias Weißmann, both alumni of the Leibniz Institute of European History in Mainz, have been accepted into the Young Academy at the Mainzer Akademie der Wissenschaften und der Literatur (Academy of Sciences and Literature | Mainz).
The Academy's website states: »Membership in the Young Academy supports [young academics] in pursuing their scientific careers and offers them the opportunity to expand their scientific network under the sign of interdisciplinarity. The aim is to promote interdisciplinary and intergenerational dialogue between excellent scientists, which should lead to a productive exchange and scientific excellence.«
When it was founded in 2016, the Young Academy accepted 36 young academics for a period of four years. In the second round of the Young Academy, 50 new members have been accepted into the programme for the next four years – Andrea Hofmann and Tobias Weißmann being two of them.
Andrea Hofmann was a member of the academic staff at the IEG from 2013 to 2017 and will soon take a position in the department »Abendländische Religionsgeschichte« again.
Tobias Weißmann was a fellow at the IEG in 2018, where he worked on his research project »Gran teatro del Mundo. Kunst, Klang und Musik im Dienst der internationalen Festkultur in Rom um 1700«.