News
12.05.2020
Review on »Globale Vorherrschaft und Fortschrittsglaube« by Johannes Paulmann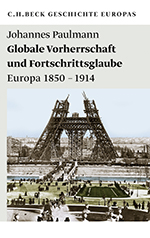 H-Soz-Kult published a review on »Globale Vorherrschaft und Fortschrittsglaube. Europa 1850 – 1914« by IEG director Johannes Paulmann.
In his review, Michael Goebel writes (German citation following):
»Johannes Paulmann hat daher nicht nur ein sehr gelehrtes, lehrreiches und faktengesättigtes Buch für ein breites Publikum geschrieben. Er erfüllt auch den Wunsch nach einem für Fachleute bedenkenswerten Epochenentwurf. [...]
[…] Für absehbare Zeit wird es dieses Buch bleiben, zu dem Leserinnen und Leser greifen sollten, wenn sie sich für eine elegante, eingängige, präzise und nuancierte Geschichte Europas im Zeitalter der ersten Globalisierung interessieren, die zugleich umsichtig und kenntnisreich den neuesten Forschungsstand berücksichtigt.«
»Globale Vorherrschaft und Fortschrittsglaube. Europa 1850 – 1914« was published in 2019 by C.H. Beck. In this book, Johannes Paulmann shows to what extent the life in Europe changed between 1850 and 1914. Many of the material and intellectual foundations that were built during that time are still valid today. At the same time, in the years leading up to 1914, Europe experienced the climax of its imperial power, which remains unparalleled until today.
Johannes Paulmann is the director of the department Universal history at the Leibniz Institute of European History.
You can read the complete review online and find more information on the publisher's website.