News
14.05.2020
New article on EGO: »Global health in the colonial era: The expansion of European medicine« by Walter Bruchhausen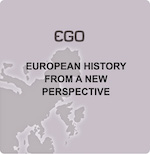 A new article was published on European History Online (EGO): »Global health in the colonial era: The expansion of European medicine« by Walter Bruchhausen. EGO is published by the IEG.
Original in German.
The worldwide spread of the European type of medicine has taken place since the early modern period, above all through trade settlements, Christian missionary work, and colonial conquest. However, the Western claim of superiority developed only with successes of the scientifically oriented medicine of the late 19th century, not least of bacteriologically informed tropical medicine. In the past, foreign medicine had even been considered potentially superior by local standards.
At the time, the dominant concern was the health of one's own staff. Not until the development of the colonial economy around 1900 was more protection against epidemics provided for indigenous populations in European colonies. Since around 1930, the new task of development has entailed an expansion of curative care. This has increasingly included indigenous health care personnel, despite a long history of racism.
Prof. Dr. Walter Bruchhausen manages the new department for "Global Health" at the Institut für Hygiene und Öffentliche Gesundheit des Universitätsklinikums Bonn.