News
18.06.2020
Fifth and Last Call for Applications: ReIReS Scholarship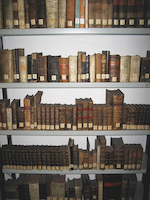 Starting now, scholars from any academic discipline can apply for a scholarship at the Research Infrastructure on Religious Studies (ReIReS). The scholars can spend two weeks at one of 14 European research centres, where they have access to the physical and virtual sources under the guidance of experts.
Application deadline is August 30th, 2020.
With its project ›Transnational access to special collections and archival documents‹, ReIReS gives access to special collections, libraries and archives in Belgium, Bulgaria, France, Germany and Italy and promotes interdisciplinary research projects in historical religious studies. The ongoing call for applications concerns scholarships starting in October 2020. Scholars are offered free travel and accommodation.
You can find more information on the scholarship, the application and ReIReS on their website.