News
23.06.2020
Review on »Sagen, was ist«, co-edited by Benedikt Brunner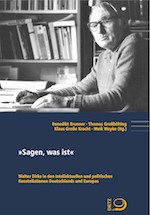 H-Soz-Kult published a review on »›Sagen, was ist‹. Walter Dirks in den intellektuellen und politischen Konstellationen Deutschlands und Europas«, co-edited by IEG colleague Benedikt Brunner.
The reviewer, Ronald Funke from the Leibniz Centre for Contemporary History Potsdam, argues that the anthology shows how the examination of Dirks and his writings from today's perspective can be of great use in understanding the intellectual History of the Bonn Republic. Especially the chapters introducing the different fields of examination would offer a neat general overview, facilitating the contextualisation of the detailed analyses of Dirks' positions in the following chapters.
The anthology on Walter Dirks, a left-wing catholic, journalist and intellectual combines the results of a symposium held in 2014 that was co-organised by the Friedrich Ebert Foundation Bonn and the cluster of excellence ›Religion and Politics‹ of the University of Münster. As a member of the cluster of excellence, Benedikt Brunner did not only organise the symposium, but also co-edited the anthology. He is now a member of the academic staff at the IEG, department ›Abendländische Religionsgeschichte‹.