News
28.07.2020
Article on the IEG in the journal ›Allgemeine Zeitung‹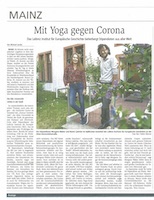 Today, the Allgemeine Zeitung published an article on the Leibniz Institute of European History: »Mit Yoga gegen Corona. Das Leibniz Institut für Europäische Geschichte beherbergt Stipendiaten aus aller Welt«.
The author Michael Jacobs interviewed our fellows about their fellowship, their life at the IEG and the extraordinary situation due to the corona virus.
Read the complete article (in German) in today's edition of the Allgemeine Zeitung.