News
03.09.2020
New book co-edited by Esther Möller and Johannes Paulmann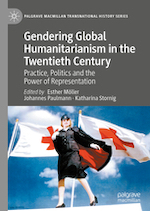 Esther Möller and IEG director Johannes Paulmann recently published their book »Gendering Global Humanitarianism in the Twentieth Century. Practice, Politics and the Power of Representation« with Palgrave Macmillan. Esther Möller and Johannes Paulmann co-edited the volume with Katharina Stornig from the University of Giessen.
The book discusses the relationship between gender and humanitarian discourses and practices in the twentieth century. Glenda Sluga from the University of Sydney comments:
»This volume is interesting both because of its global focus, and its chronology up to the present, it covers a good century of changes. It will help define the field of gender studies of humanitarianism, and its relevance for understanding the history of nation-building, and a political history that goes beyond nations.«
Esther Möller is an affiliated scholar at the IEG in the research project »Red Crescent«, working on the history of Humanitarianism.
Johannes Paulmann is director of the department »Universalgeschichte« at the IEG and is in charge of the international cooperation project »Global Humanitarianism | Research Academy«.
For more information on the book, the articles and purchase options, please visit the publisher's website.