News
07.09.2020
Position opening: Director of the IEG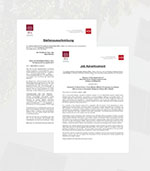 The IEG seeks to fill the position of director of the department »Abendländische Religionsgeschichte« (History of Religions) starting April 1st, 2022. The position is combined with a University Professorship in Early Modern/Modern/Contemporary History with a Focus on European Religious History at Johannes Gutenberg University.
As a member of the executive board and in cooperation with the director of the department of Universalgeschichte (universal history), the future holder of the position is jointly responsible for the Institute's current operations. Prerequisites include a dissertation with a historical focus, familiarity with the discipline of history, and additional excellent academic achievements. The position requires relevant international and innovative research achievements in the field of European religious history and/or church history.
The application deadline is October 26th, 2020.