News
11.12.2020
New publication "Handbuch Frieden im Europa der Frühen Neuzeit / Handbook of Peace in Early Modern Europe" edited by Irene Dingel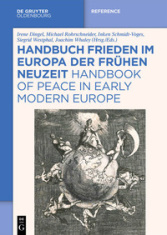 The development of European peace treaties is as significant for the early modern period as the omnipresence of armed conflicts: more than 2000 peace treaties between or within states were signed. The handbook "Peace in Early Modern Europe" with 51 contributions in German and English, brings together the latest and international research on political and social peace arrangements, peace concepts and practices, and cultures of peace in the early modern period.
In this context, it has two main goals: On the one hand, existing peace research on the early modern period is brought together and made available in a concise way to a wider circle of readers. On the other hand, the significance of the concept of peace in the early modern period will be illustrated. The notion of peace - like any other basic historical concept - is a cultural construct and, depending on certain trends, is always filled with new meanings. In this sense, peace is a relational concept that has no imaginative power of its own and is only defined by the attributes and qualities assigned to it.
The editors of the handbook, published on December 7, 2020, are Prof. Dr. Irene Dingel (Director of the Department of "Abendländische Religionsgeschichte" at the IEG), Prof. Dr. Michael Rohrschneider (Rheinische Friedrich-Wilhelms-Universität Bonn), Prof. Dr. Inken Schmidt-Voges (Philipps-Universität Marburg), Prof. Dr. Siegrid Westphal (IKFN, University of Osnabrück), and Prof. Dr. Joachim Whaley (University of Cambridge).