News
18.01.2021
New English translation of EGO article "European Peace Processes in the Pre-Modern Era" by Inken Schmidt-Voges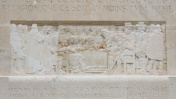 On European History Online (EGO) a new translation has been published under the editorship of the IEG: "European Peace Processes in the Pre-Modern Era" by Inken Schmidt-Voges. The article is now available in both German and English.
Peace processes shaped political and social transformations in pre-modern Europe on many levels. At the core of these peace processes was the negotiation and implementation of legal structures for the non-violent resolution of conflict, and these processes can be observed from the interpersonal level of social interaction up to the relationships between states. They were directly connected with core processes of the pre-modern era that affected each other: state-formation (domestic, urban and general peace), confessionalization (religious peace) and globalization (diplomacy), each with its own different forms of norm-formation and institutionalized practices, which in the event of conflict were supposed to enable communication and lead to legally defined rules. Rooted in the Christian ethics of peace and in common law, these processes were also the subject of intensive Europe-wide media reflection.
Credits: Henry IV of France signs the "Edict of Nantes", Reformation Monument in Geneva (section), colour photograph, 2013, photographer: Clément Bucco-Lechat; source: Wikimedia Commons.