News
23.02.2021
New publication "Wahrheit – Geschwindigkeit – Pluralität. Chancen und Herausforderungen durch den Buchdruck im Zeitalter der Reformation" edited by Jan Martin Lies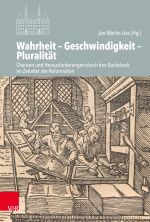 Under the editorship of Jan Martin Lies, the new volume "Wahrheit – Geschwindigkeit – Pluralität. Chancen und Herausforderungen durch den Buchdruck im Zeitalter der Reformation" in the series "Veröffentlichungen des Instituts für Europäische Geschichte Mainz" has been published from Vandenhoeck & Ruprecht. The publication is also available in open access and includes contributions by IEG academic staff members Irene Dingel, Andrea Hofmann, Henning P. Jürgens, Markus Müller and Christian Witt.
New technologies for the transfer of information promote information exchange. This is a self-evident statement for the 20th and 21st centuries. But it is just as self-evident for the 16th century and the early modern period as a whole. A well-known example of this is the improvement in the techniques of letterpress printing through the use of movable letters. This led to the emergence and permanent consolidation of new media, such as pamphlets and the "New Newspaper." As a result of the changed communication situation, other types of media that were already known, such as songs and sermons, took on a new significance in the conflicts of the time. This resulted in a variety of opportunities and challenges, for the use of these new media, like the transformation of existing media formats and their widespread use, set in motion or promoted processes of political, social, legal, and religious change.
The contributions to the anthology aim to highlight these new forms and methods of communication as well as the processes of change for the 16th century. This is done by analyzing processes of change and transformation through the use of familiar as well as the creation of new media formats, the way of dealing with a diversity of opinions and the resulting plurality of interpretations of current events, as well as the emergence of a new culture of dispute and new attempts at order.
Jan Martin Lies is member of the academic staff in the project "Controversia et Confessio".