News
05.03.2021
"Neagoe Basarab – Princeps Christianus" by Mihai-D. Grigore now available in English translation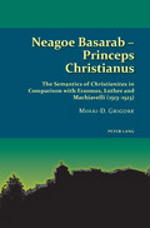 IEG staff member Mihai-D. Grigore's award-winning book is now available in English translation under the title "Neagoe Basarab - Princeps Christianus. The Semantics of Christianitas in Comparison with Erasmus, Luther and Machiavelli (1513-1523)" published by Peter Lang Verlag. For his book, the IEG scholar was awarded the translation prize "Geisteswissenschaften International".
The field of political theology in the Orthodox traditions of Europe in post-Byzantine times is an almost unknown area. The book offers a comparison of four mirrors for princes from the beginning of the sixteenth century: The Teachings of Neagoe Basarab to His Son Theodosius (1520), Institutio Principis Christiani of Erasmus of Rotterdam (1516), On Secular Authority of Martin Luther (1523) and The Prince of Niccolò Machiavelli (1513). The author thus provides a cross-section of the history of Christian discourse concerning the concept of 'Princeps Christianus' in Europe. These works are representative because they show relevant confessional interpretations in Orthodoxy, Catholicism and Lutheranism. The main focus is on Neagoe Basarab, Lord of Wallachia between 1512 and 1521. This important author from Orthodox Europe is here brought into conversation with his three famous contemporaries on such topics as humanity, religion, politics, state, subjects, rulers and freedom.
Mihai-D. Grigore is a member of the academic staff at the IEG in the Department "Abendländische Religionsgeschichte" since 2012. His book was awarded the 2015 Prize of the Society for the Study of the Christian East.