News
07.04.2021
New publication "The Crucigers. Caspar the Elder, Caspar the Younger and Elisabeth Cruciger and their Importance for the Wittenberg Reformation" edited by Irene Dingel and Armin Kohnle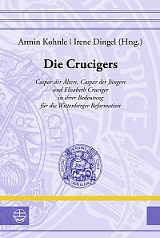 The volume, which is based on the XIII. Spring Conference on the History of the Wittenberg Reformation, brings together 18 essays in which "the Crucigers" are extensively acknowledged in their significance for the Wittenberg Reformation. Correspondence and publications of the older Cruciger are listed comprehensively for the first time.
The Cruciger family played an important role in the early history of the Reformation. Caspar Cruciger the Elder belonged to the closest circle of the Wittenberg reformers around Luther and Melanchthon. His first wife Elisabeth is known as the author of the hymn »Herr Christ, der einig Gotts Sohn«, which is still found in the Protestant hymn book. Less well known is Caspar Cruciger the Younger, who, as a zealous student of Melanchthon, took over his teacher's classes after his teacher's death, but soon became entangled in the theological disputes at the University of Wittenberg and lost his job.
Irene Dingel, Armin Kohnle (Hg.)
Die Crucigers
Caspar der Ältere, Caspar der Jüngere und Elisabeth Cruciger in ihrer Bedeutung für die Wittenberger Reformation
Leucorea-Studien zur Geschichte der Reformation und der Lutherischen Orthodoxie, Band 40
2021, ca. 480 Seiten | 15,5 x 23 cm
12 s/w Abb.
Hardcover
ISBN 978-3-374-06807-4
98,00 EUR