News
28.04.2021
Start of the online project "Approaches to European Religious History in Conversation. Celebrating Irene Dingel's birthday"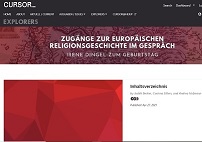 "How is European religious history written?" When answering this question, various methodological approaches are as relevant as diverse academic traditions or the religious or confessional background of scholars. In the IEG's Department of Occidental History of Religion, which includes researchers from Protestant, Catholic and Orthodox theology, Jewish Studies, Islamic Studies as well as History, this topic has undergone and continues to undergo controversial debate.
To celebrate the 65th birthday of Irene Dingel, Director of the IEG and Head of the Department "Abendländische Religionsgeschichte", the online project "Zugänge zur europäischen-Religionsgeschichte im Gespräch [Approaches to European Religious History in Conversation]", edited by Judith Becker, Corinna Ehlers and Andrea Hofmann, will be launched in April 2021 to explore this question from various disciplinary, religious and confessional perspectives. For one year, starting in April 2021, each month an essay will be published and discussed online on the
Cursor_
platform. The aim of the publication is to bring methods and approaches from the perspective of different disciplines into conversation with each other and enable academic exchange with a public beyond the IEG. In doing so, a new mode of discussion in the digital space is being tested at the same time.
Editors, authors and other contributors to the online publication are current and former IEG researchers. Through this project, all those involved wish Irene Dingel a very happy birthday.