News
11.06.2021
New publication "Lutherische 'Orthodoxie' als historisches Problem" by Christian V. Witt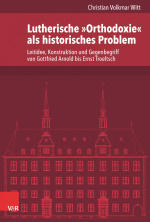 The new book by Heisenberg scholar Christian V. Witt "Lutherische 'Orthodoxie' als historisches Problem. Leitidee, Konstruktion und Gegenbegriff von Gottfried Arnold bis Ernst Troeltsch" is published in the series "Veröffentlichungen des Instituts für Europäische Geschichte Mainz" by Vandenhoeck & Ruprecht.
Lutheran "orthodoxy" occupies a fixed position in the history of the church and theology in the post-Reformation period. In opposition to Pietism and the Enlightenment, there was a historically identifiable variable called "orthodoxy", which - so the assumption goes on - embodied everything that Pietists and Enlightenment thinkers then opposed in the best Reformation tradition and increasingly successfully.
However, this antagonism and the underlying developmental teleologism are evidentially due to the positional ties and theological-political interests of historiographical concepts that are still effective today, such as those presented after G. Arnold by L. T. Spittler, G. J. Planck, K. Hase, F. Chr. Baur, A. Tholuck and finally E. Troeltsch. In view of this, the trajectory of the category in question as a guiding idea, construct and counter-concept is traced and analysed by bringing together approaches from institutional theory, the history of theology and the history of concepts in order to question its historical resilience and suitability for the language of science.
Christian Volkmar Witt was a research assistant at the Leibniz Institute for European History Mainz, Department of Occidental History of Religion, until 2018 and has been a Heisenberg Fellow of the DFG since September 2018.
Witt, Christian Volkmar
Lutherische »Orthodoxie« als historisches Problem
Leitidee, Konstruktion und Gegenbegriff von Gottfried Arnold bis Ernst Troeltsch
Veröffentlichungen des Instituts für Europäische Geschichte, Mainz, 264: Abt. Abendländische Religionsgeschichte
Göttingen: Vandenhoeck & Ruprecht, 2021
hardcover | 297 pages
ISBN: 978-3-525-50184-9