News
15.06.2021
New EGO article: "Krieg und 'Nachkrieg'– zur ästhetischen Reflexion der Gewalt 1800–1937" by Olaf Peters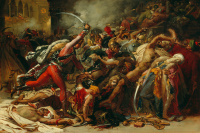 On European History Online (EGO) a new article has been published under the editorship of the IEG: "Krieg und 'Nachkrieg'– zur ästhetischen Reflexion der Gewalt 1800–1937" by Olaf Peters. Up until the 18th century, war was regarded as a violent conflict between sovereign states. By the age of Enlightenment, it became subject to a fundamental criticism and the form of war changed.
Francisco de Goya witnessed a guerrilla war against the French around 1800 and reflected this in his work. As the founder of modernism, he became the international model for the visualisation of the horrors of war for 150 years. Starting here, the article outlines developments in the 19th century and ends in the interwar period with Otto Dix and Pablo Picasso, who still referred back to Goya's famous 1814 execution painting during the Korean War in 1951.
Picture rights: Anne-Louis Girodet-Trioson (1767–1824), Sketch for The Revolt of Cairo, Art Institute of Chicago, CC0 1.0 Universell (CC0 1.0) Public Domain Dedication.