News
23.07.2021
Annual Report 2020 published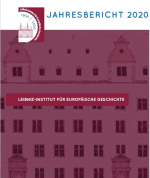 The IEG Annual Report 2020 reviews the highlights of the past anniversary year and provides a detailed overview of research projects, publications, events as well as our fellowship programme and visiting fellowship programme.
The IEG looks back on a special, eventful and challenging year 2020.
The Institute celebrated its 70th anniversary with events, workshops and publications. Due to the Corona pandemic, the Institute had to largely relocate its events to the digital space. Members of the academic staff received awards for their outstanding research activities and the Institute was successful in obtaining grants and third-party funding for projects.