News
24.08.2021
New EGO article: "Kurorte vom 16. bis zum 19. Jahrhundert" by Ute Lotz-Heumann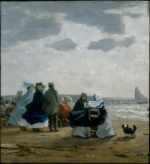 On European History Online (EGO) a new article has been published under the editorship of the IEG: "Kurorte vom 16. bis zum 19. Jahrhundert" by Ute Lotz-Heumann. "Kurorte" [Spas] represent a specific type of European urban and touristic life between the 16th and the 19th centuries.
Regardless of whether or not they were cities in the legal sense or reached a certain size or minimum number of inhabitants, spas were defined by their multifunctionality: they combined health care and healing with entertainment and "leisure" activities and were places of social gathering, especially for the elites. Their architectural and spatial ensembles had to accommodate these diverse functions and also adapt to changing demands. Especially in the late 18th and 19th centuries, the number of spas in Europe increased, being further expanded by the new seaside resorts.
Picture rights: On the Beach, Dieppe, Oil painting, 1865, artist: Eugène Boudin (1824–1898); source: The Metropolitan Museum of Art, https://www.metmuseum.org/art/collection/search/437987, CC0 1.0 Universell (CC0 1.0) Public Domain.