News
31.08.2021
New EGO article: "Orthodoxe Mission" by Ciprian Burlacioiu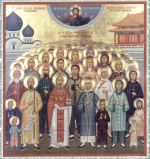 On European History Online (EGO) a new article in German has been published under the editorship of the IEG: "Orthodoxe Mission" by Ciprian Burlacioiu. Usually, when speaking about the European missionary activities of the modern era, one thinks of Roman Catholic or Protestant endeavors. However, the Eastern Church of Byzantine tradition also engaged in missionary activity throughout the Middle Ages and continued to do so until the modern era.
But unlike other Christian missionary activity from Europe, European expansion into the New World or along the South Atlantic route to Asia was not part of its historical development. Rather, the decisive factor was the slow expansion of the Russian Empire to the East. Thus, the Orthodox mission was defined by the encounter with the peoples, cultures and religions of Asia and the North Pacific region, and approximately encompassed an area between the Volga and Alaska, Northern Siberia and the southern border with China and Mongolia.
Picture rights: Holy Chinese Martyrs of the Boxer Rebellion, unknown artist; source: Wikimedia Commons, https://commons.wikimedia.org/wiki/File:Chinese_Martirs.jpg, courtesy of the Holy Transfiguration Monastery, Brookline, http://www.thehtm.org/.