News
08.12.2022
The IEG welcomes Prof. Dr. Kaya Şahin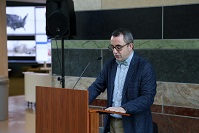 We are pleased to welcome Prof. Dr. Kaya Şahin back to Mainz as a Senior Research Fellow. Kaya Şahin, who was also a Senior Research Fellow with us in 2021, comes from the Indiana University, Bloomington, USA, where he is an Associate Professor in the Department of History, the Department of Central Eurasian Studies and the Chair of Middle Eastern Languages and Cultures. He will stay at IEG for a month to complete his book project on "Imperial Performances: Ottoman Public Ceremonies, 1457-1582".
He is particularly interested in the early modern Ottoman Empire with a focus on the institutional and ideological foundations of Ottoman imperial practice, comparative studies of early modern Eurasian empires, historiography, and intercultural and interreligious exchange and interactions.
The IEG looks forward to working with him again!