News
20.12.2022
IEG Director Nicole Reinhardt new member of the Scientific Advisory Board of the DHI Paris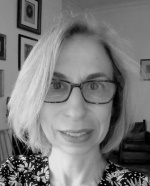 The Board of Trustees of the Max Weber Foundation has appointed IEG Director Prof. Dr. Nicole Reinhardt to the Scientific Advisory Board of the DHI Paris. The Scientific Advisory Board accompanies the Institute in scientific matters, in job planning for scientific staff and submits proposals for filling directorial positions. The members of the advisory board are elected for four years. Congratulations!
The Max Weber Foundation currently maintains eleven humanities institutes abroad, including the DHI Paris.
The DHIP is a historical research institute that both conducts its own research and supports researchers working on Western European history by conducting research in France or Germany. It promotes an internationally oriented historiography. The central task of the institute is to enable researchers of different origins, different methodological orientations and different ages to exchange ideas and engage in dialogue.
Picture rights: Nicole Reinhardt