News
17.04.2023
Public inaugural lecture by Junior Professor and Affiliated Scholar Stanislau Paulau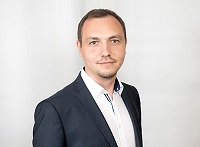 Stanislau Paulau, former staff member and now Affiliated Scholar at the IEG has been appointed Junior Professor of Global Christian History with a focus on Orthodoxy at the Martin Luther University Halle-Wittenberg as of 1 October 2022.
His public inaugural lecture will take place on 25 May 2023. Further information can be found under the tab "Events".
Stanislau Paulau was a member of the academic staff at the Leibniz Institute for European History in Mainz from 2019 to 2022. His dissertation "The Other Christianity. Zur transkonfessionellen Verflechtungsgeschichte von äthiopischer Orthodoxie und europäischem Protestantismus" (VIEG, Vol. 262, 2021), which deals with the relationship between Ethiopian Orthodox Christians and European Protestants, has received several awards.