News
05.04.2023
The IEG welcomes Prof. Dr. Joanne Miyang Cho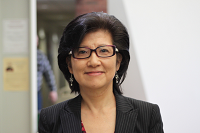 We are pleased to welcome Prof. Dr. Joanne Miyang Cho back to Mainz.
On 5 April, she starts a 6-month Senior Research Fellowship at the IEG, during which she will research on the topic of "German-speaking Jewish Refugees and the Chinese in Shanghai, 1933-1949: An Interdisciplinary Analysis".
Joanne Miyang Cho is a professor in the Department of History at William Paterson University of New Jersey, Paterson, USA. Her research focuses on German-East Asian Studies and Modern German History.
Cho has been a guest at the IEG several times, including as a PhD fellow in the 1990s and as a visiting scholar in 2014, 2015 and 2022.