Dr. Joachim Berger
Research Coordinator
Room: 00 303
Phone: +49 6131 39 39370
Fax: +49 6131 39 35326


Personal Details:
Joachim Berger studied History and Art History at the Friedrich Schiller University in Jena, Germany (Magister Artium in 1997, PhD in 2002), and the University of Bristol, U.K. He was a junior research fellow at the History Department and the Collaborative Research Centre (SFB) "Ereignis Weimar-Jena. Kultur um 1800" at Jena University (1997–2001) and worked at the Klassik Stiftung Weimar as an academic trainee in the field of historical exhibitions. He was a fellow of the German Academic Scholarship Foundation, the Casa di Goethe in Rome and the Max Weber Foundation (at the German Historical Institutes in Paris, London, and Rome). In 2004, Berger joined the management of the (Leibniz) Institute of European History in Mainz where he has been research coordinator since 2009.
Memberships:
Wissenschaftliche Gesellschaft für Theologie / Academic Society for Theology (corresponding member)
Steering Committee of the working group "Digital History" of the Verband der Historiker und Historikerinnen Deutschlands (VHD), 2014–2016
Areas of responsibility as research coordinator:
coordination of cross-departmental resesarch activities
research and development planning
programme budgets, evaluations, academic advisory board
third-party funding and project proposals
international and national cooperation, Leibniz Association
Research interests:
Internationalism and European freemasonry, 1850–1935
Courts and court societies in the 18th and 19th century
Digital history
Selected Publications:
"une institution cosmopolite"? Rituelle Grenzziehungen im freimaurerischen Internationalismus, in: Bernhard Gißibl / Isabella Löhr (eds.), Bessere Welten. Kosmopolitismus in den Geschichtswissenschaften, Frankfurt/M. 2017, 167–192.
"Une œuvre internationale d'un caractère humanitaire": The Appeal to Humanity in International Masonic Relations, in: Fabian Klose / Mirjam Thulin (eds.), Humanity. A History of European Concepts in Practice from the Sixteenth Century to the Present, Göttingen 2016, 231–248.
Hofordnungen, in Irene Dingel, Armin Kohnle eds., Gute Ordnung. Ordnungsmodelle und Ordnungsvorstellungen in der Reformationszeit, Leipzig 2014, 109–124.
Herkules, in Pim den Boer et al. eds., Europäische Erinnerungsorte, vol. 2, München 2012, 31–38.
Edited works (selection):
On site, in time. Negotiating differences in Europe, ed. for the Leibniz Institute of European History (IEG) by Joachim Berger, Irene Dingel and Johannes Paulmann, Mainz 2016f. URL:
http://en.ieg-differences.eu
.
Journal for Research into Freemasonry and Fraternalism (with Jeffrey Tyssens and Susan Sommers), since 2016
Forschungsprojekte: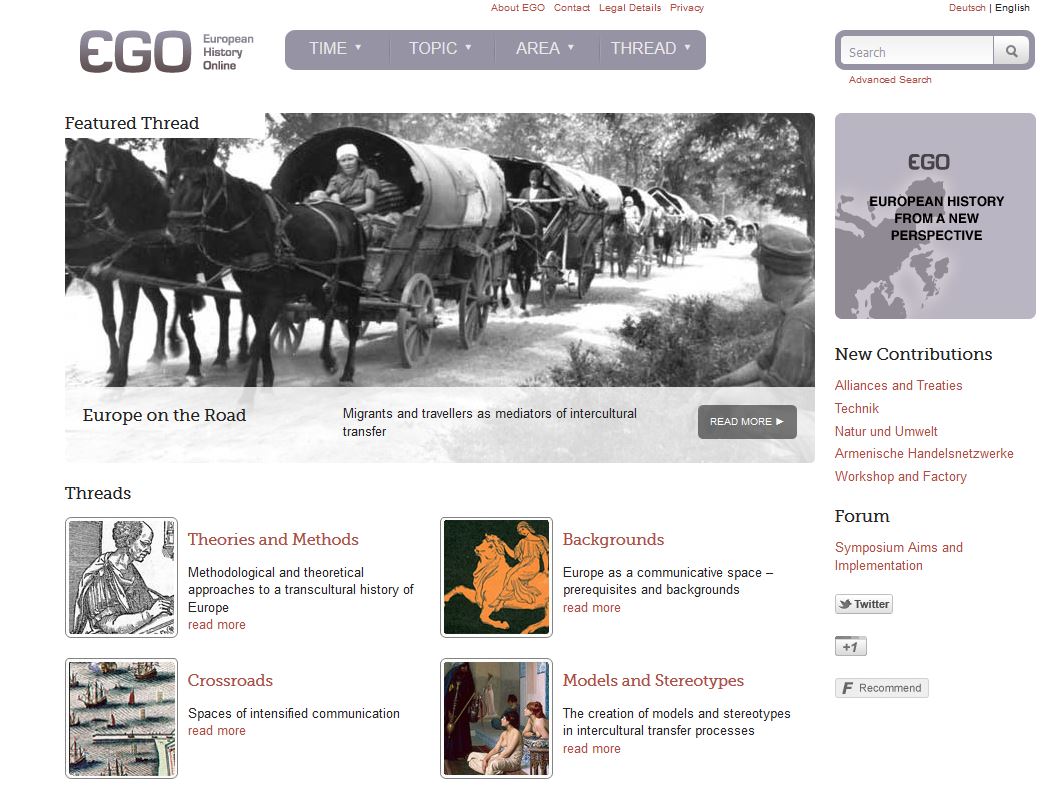 EGO | European History Online is an transcultural history of Europe published Open Access.
This research proposal examines how European masonic internationalism was caught between religious ties, national loyalties and universal aspirations to tolerance.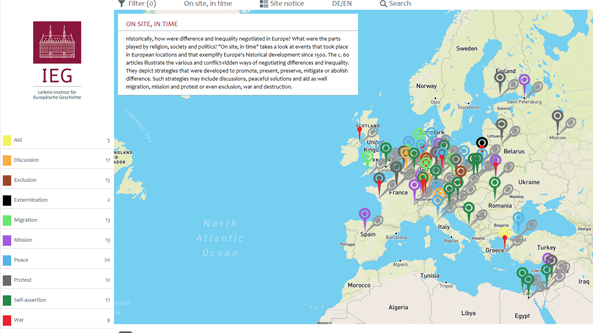 Historically, how were difference and inequality negotiated in Europe? What were the parts played by religion, society and politics? "On site, in time" takes a look at events that took place in European locations and that exemplify Europe¹s historical development since 1500. The c. 60 articles illustrate the various and conflict-ridden ways of negotiating differences and inequality. They depict strategies that were developed to promote, present, preserve, mitigate or abolish difference. Such strategies may include discussions, peaceful solutions and aid as well migration, mission and protest or even exclusion, war and destruction.