Dr. Ines Grund
Library Management, IT Coordination
Room: 03 202
Phone: +49 6131 39 39366
Fax: +49 6131 39 30153


Personal Details:
Studies of Medieval and Modern History at the Johannes Gutenberg University Mainz and Swansea University / Prifysgol Cymru Abertawe, GB; Minor subject English, Slavic Studies, computer science; Master of Arts 1993; 1990-1998 research assistant and research associate at the Regestenkommission Emperor Frederick III. at the Academy of Sciences and Literature Mainz; PhD University of Regensburg in 2007
1999-2001 traineeship at the University Library Marburg, 2001 State examination at the Library School Frankfurt to higher civil service in academic libraries, graduate civil servant (librarianship)
Since 2001 Head of the Library; since 2006 IT Supervisor; 2013-2019 Equal Opportunities Officer.
Research Interests:
History of the late Middle Ages and the early modern period
Critical editons of primary sources
Metadata and markup languages
Selected Publications:
Das Taxregister der römischen Kanzlei 1471–1475 (Haus-, Hof- und Staatsarchiv Wien, Hss. weiss 529 und weiss 920), bearb. v. Paul-Joachim Heinig / Ines Grund, 2 Tle., Wien u.a. 2001 (Regesten Kaiser Friedrichs III., Sonderbd. 2)
Die Ehre – die Freiheit – der Krieg. Frankreich und die deutsche Fürstenopposition gegen Karl V. 1547/48–1552, phil. Diss. Univ. Regensburg 2007
Open Access
mit Zaur Gasimov: Auswahlbibliographie, in: Jahrbuch für Europäische Geschichte (zuletzt 12.2011)
Beiträge in: Archiv für Reformationsgeschichte / Literaturbericht (ARGL) (zuletzt 45.2016)
deutsche Beiträge in: Bibliographie internationale de l'Humanisme et de la Renaissance (BIHR) (zuletzt 45.2009(2013))
Research projects: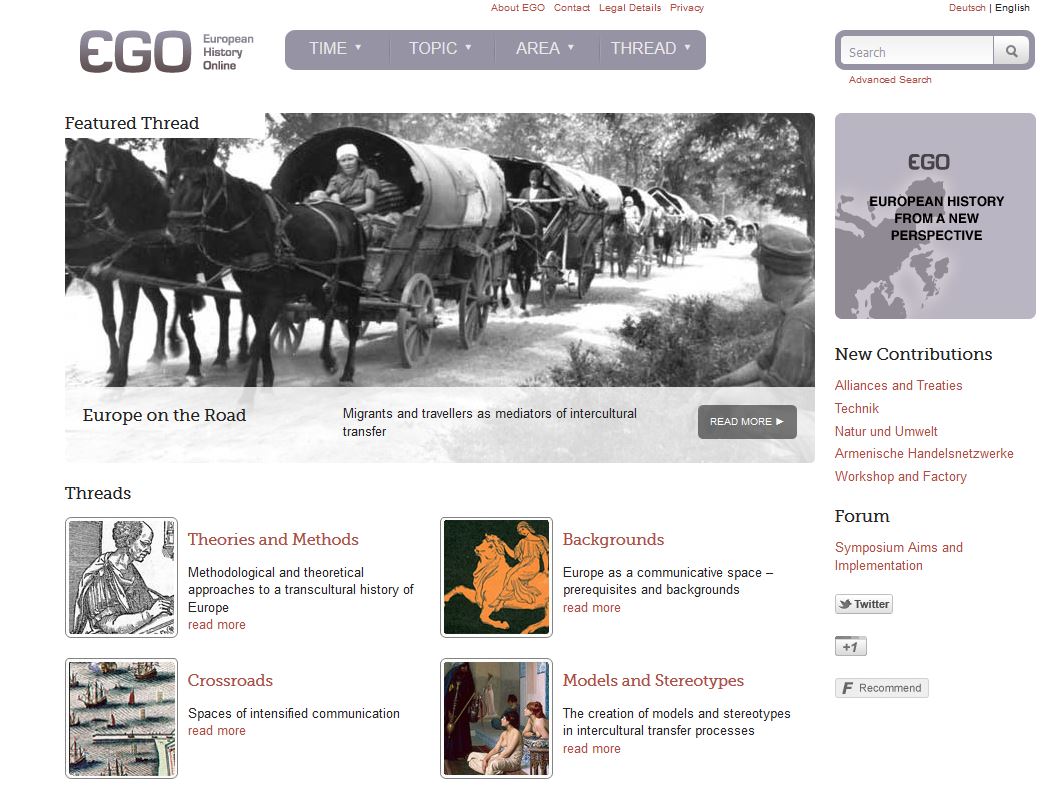 EGO | European History Online is an transcultural history of Europe published Open Access.
EGO|European History Online is a transcultural history of Europe on the Internet published by the Leibniz Institute of European History. The success and the consequential growth of EGO is, however, a challenge for the editorial office. The interlinking of EGO articles with each other and with external resources is an important aspect of EGO's conceptual design, so each new article has to be integrated into the existing link structure. This means not only that the new article has to be linked to relevant existing articles, but the copy editors must also check whether links to the new article need to be added to existing articles.