Righteousness and Peace Kiss Each Other – Representations of Peace in Early Modern Europe
The omnipresence of military conflict has been described as one of the main characteristics of early modern Europe. But while the centuries between 1500 and 1800 were dominated by wars, at the same time European "peace processes" emerged. More than 2,000 international and subnational peace treaties were concluded during the period, establishing a European practice for negotiating and establishing peace. Like war, peace had to be declared, explained, and communicated. This task was performed by representations of peace in visual arts, music, literature and other media forms. What emerges is a shared set of motifs, allegories, and topoi, which were used and understood all over Europe. Based in many cases on biblical or classical mythological sources, these representations of peace developed a "vocabulary of peace", which was employed and developed by artists, poets, composers, and preachers, and which was spread by means of processes of cross-bor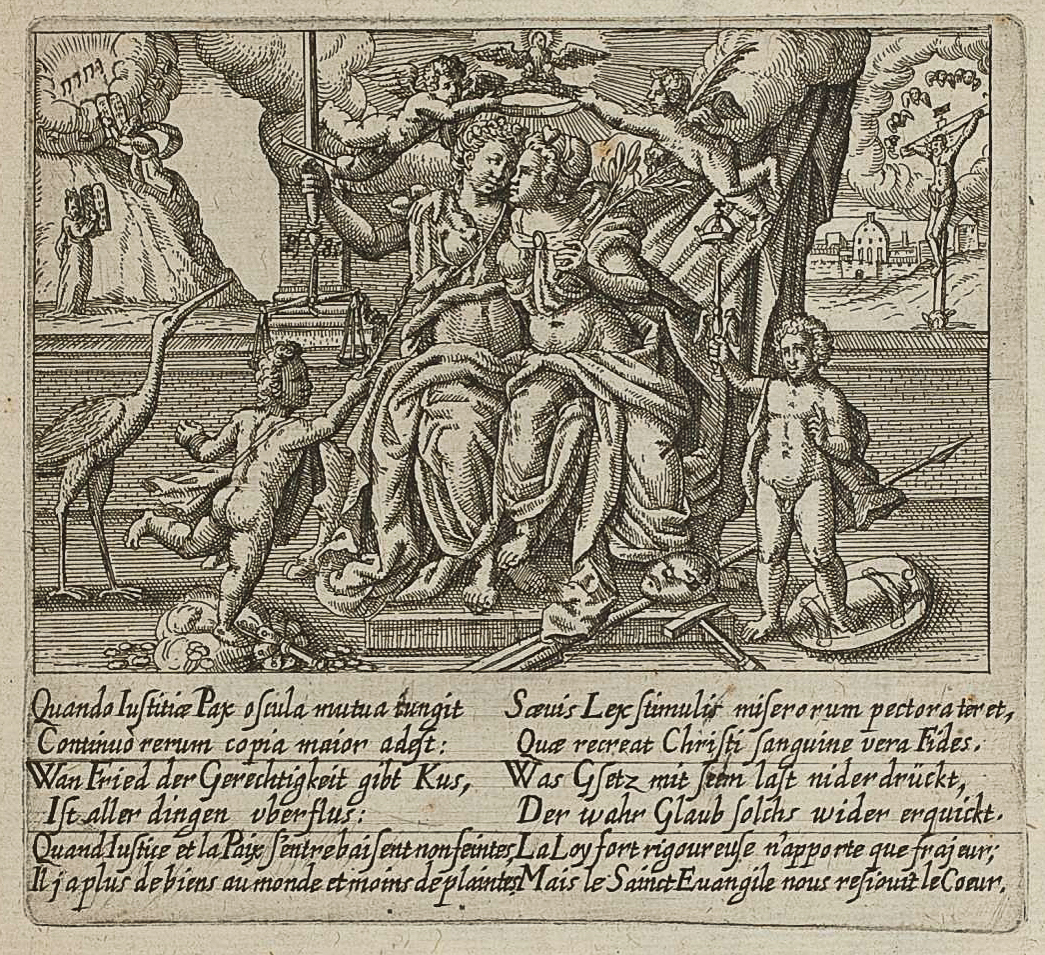 der transfer.

The various representations of peace assumed pragmatic functions. They served to encourage and instruct, to interpret, and to appeal. They could have a normative function, or even a manipulative function. They were consciously used as a means of propaganda and appealed to particular public spheres. These aspects of representations of peace are in the focus of the three-year research project funded by the Leibniz Association.Our approach requires the cooperation of different disciplines. The methods and perspectives of art history, religious history, musical theory, literary studies and political history are employed in tandem to achieve a thorough analysis. Institutes of historical research (the Historical Institute of the Polish Academy of Sciences, the German Historical Institute in Rome and the IEG) have come therefore together with a research library (the Herzog August Library, Wolfenbüttel) and a research museum (the German National Museum in Nuremberg), combining their respective source materials, infrastructures and skills.
Moreover, the pan-European phenomenon of representations of peace requires a transnational, comparative and transdisciplinary approach. The research project will therefore be based on a common body of sources, which will be accessed through the research infrastructure WissKI (http://wiss-ki.eu/), which was developed by the German National Museum. Representations of peace of all kinds and genres will be made accessible to all participants in a "semantic web" approach.

A sub-project conducted by Henning P. Jürgens within this project deals with sermons of peace, which were preached to mark and celebrate individual peace treaties. Sermons were essential parts of public feasts held to celebrate the concluding of peace treaties. As part of the oral culture, sermons reached the illiterate sections of society, but many of them were subsequently published in print and thus reached a broader trans-regional public. The project analyses the theological arguments and homiletical concepts of these sermons, problematizes the lag between the spoken and the written word, and examines the metaphors and biblical references used to explain and promote peace. It addresses as well the political function of sermons and their role in public festival culture in confessional comparison.


Copy: »Quando Iustitiae Pax oscula mutua iungit«, from:
Jacob de Zetter, New Kunstliche Weltbeschreibung das ist Hundert auserlesener kunststuck, so von den Kunstreichsten Maistern dieser Zeit erfunden und gerisen worden, gegenwertigen Welt lauf und Sitten vor zu mahlen und uff besserung zu bringen: Nun mehr ins kupffer zusammen getragen mit kurtzen Lateinischen versen, auch Deütschen und Frantzösischen Reymen artig erklaret.
Francofurti: Theodor de Bry, 1614; [Online-Ausg.].
Permalink: http://diglib.hab.de/drucke/39-7-geom-2s/start.htm?image=00115
Copyright Herzog August Bibliothek Wolfenbüttel, CC BY-SA Lizenz.