Neuigkeiten
12.11.2019
Neuer EGO-Beitrag: »Icons: the Orthodox Understanding of Images and the Influence on Western Art« von Davor Džalto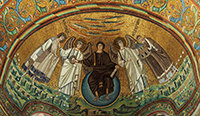 Auf der EGO-Website (Europäische Geschichte Online) ist unter Herausgabe des IEG der englischsprachige Artikel »Icons: the Orthodox Understanding of Images and the Influence on Western Art« von Davor Džalto erschienen.
The word »icon« (and the adjective »iconic«) is not an unfamiliar concept to the contemporary reader. Although the meaning of »icons« in pop culture (»stars«) and on computer screens is different from the way this concept is used in Christian art and theology, it is not completely unrelated to the ancient connotations of the term »icon/iconic«. This article primarily examines the Orthodox Christian understanding of the image (icon) and its function within the context of the Orthodox Church and her theology. Based on this, the article also explains the aesthetic elements of traditional Orthodox Christian iconography in connection with the complex web of mutual exchanges and influences (both theological and visual/stylistic) between Orthodox Christianity and Western European religious and artistic tradition.
Bildquelle:
Apse mosaic in basilica of San Vitale, Ravenna, Italy; colour photograph, 2015, photographer: Petar Milošević; source: Wikimedia Commons,
https://commons.wikimedia.org/wiki/File:Apse_mosaic_-_Basilica_of_San_Vitale_(Ravenna).jpg
, Attribution-ShareAlike 4.0 International (CC BY-SA 4.0)
https://creativecommons.org/licenses/by-sa/4.0/deed.en
.