News
17.03.2020
Radio feature by SWR2 on »The Bomber's Baedeker« with Ines Grund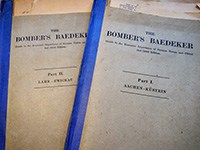 Yesterday, the German radio station SWR2 aired a feature on »The Bomber's Baedeker«, that has been digitised last year. IEG librarian Ines Grund, who played a substantial role in the digitising of the rare historical document, also has an appearance.
In his short feature, Max Knieriemen brings the »travel guide for British bomber pilots« back to life: original audio recordings from the war, excerpts from the book and Ines Grund's descriptions – all framed by the author's illustrations – paint an impressive picture of the »Guide to the Economic Importance of German Towns and Cities« for bomber pilots in World War II.
You can find the radio feature, the digitised version of »The Bomber's Baedeker« and more information on Ines Grund on the linked websites.