News
07.11.2022
New publication: »Europa across Boundaries« - Jahrbuch für Europäische Geschichte / European History Yearbook, volume 22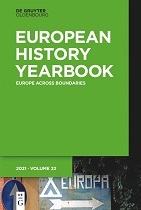 Under the editorship of IEG director Johannes Paulmann and IEG staff member Noëmie Duhaut, volume 22 "Europe across Boundaries" has been published in the series "Jahrbuch für Europäische Geschichte / European History Yearbook". The volume is available in Open Access.
The publication is not only focused on writing European history across boundaries but also in decentering Europe. Individual contributions deal with Central America, East Africa, the Middle East, and Oceania. They take the reader far away from the imperial metropolises of Berlin, Madrid or London - and yet tell a story of these European imperial centers and societies.
Berlin, Boston: De Gruyter Oldenbourg 2022.
DOI: 10.1515/9783110776232
ISBN: 9783110728149