Library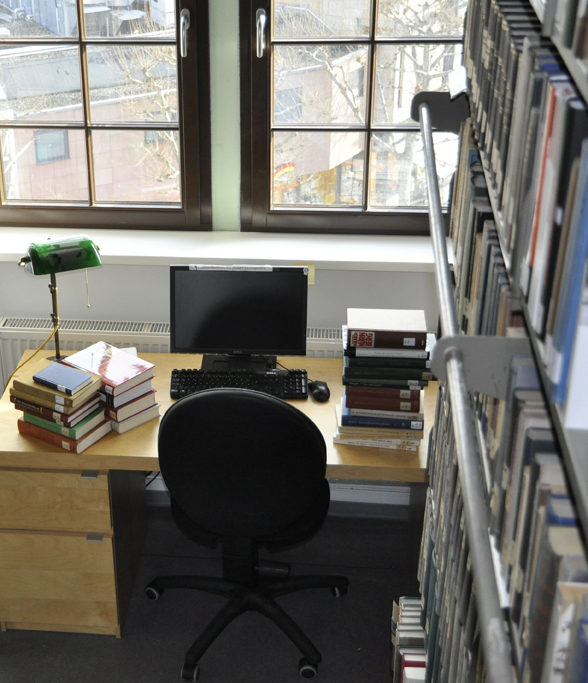 OPENING HOURS: The library is open from Monday to Thursday from 9.00 a.m. to 5.00 p.m. and on Friday from 9.00 a.m. to 12.30 p.m. In addition to the information and assistance provided by the staff, the library offers reading desks, computers, a reader for microfilms and microforms, and a scanner/photocopier. There is a fee for paper copies (see the Library Regulations).
Please note: The library is closed on 28 September 2023.
The library offers approximately 98,000 printed titles and 1.15 mill. digital titles on the history of Europe from the mid-15th century. There is an emphasis on general European history and international history, as well as on church history and the history of theology since the period of Humanism and the Reformation.
The library subscribes to numerous international learned journals and periodicals (see the
Overview of Journals ZDB
). Additionally, a large number of both special and general bibliographical aids are available. The library's entire collection is contained in the Institute's
Online Catalogue (OPAC)
. The catalogue also contains the
new acquisitions
of the current year and a large array of
online resources and databases
funded by the German Research Foundation. Other online resources can be found, for example, by accessing the
subject information services
for religion and history.
All library stock is non-circulating material (books may only be borrowed in-house). It is used by the Institute's fellows, scholarship holders, guests and staff, and can also be accessed by all interested external users who wish to read, study and research in the library.
The library's collections on western religious history and universal history are openly accessible to library users, granting immediate access to the library's holdings. The Little Guide to Finding Books gives a brief overview of the catalogues and how to borrow books in-house.

The IEG Bibliography 1950-2011 retrospective lists the publications of the Institute and the publications of its academic staff from the years 1950-2011 in bibliographic references and library holdings of the years of employment, where available.

The IEG Bibliography is an ongoing project that lists the publications of the Institute and its academic staff since the year of publication 2012 ff.


E-mail to the library: bibliothek@ieg-mainz.de

Library team:

Dr Ines Grund (library management, contact person for academic matters)
Tel.: +49 6131 39 39366

Leon Wild (student assistant)
Tel. +49 6131 39 39344

Annette Reichardt (user assistance)
Tel. +49 6131 39 39379

Katja Schneider M.A. (acquisition, catalogues)
Tel. +49 6131 39 39380 (tuesdays to thursdays)